| | | |
| --- | --- | --- |
| | Parent Step | |
Resources for parents, grandparents, guardians, teachers, or anybody else that deals with children on a regular basis.
All original graphics were made by Laura Yard of Yardco Computers. All images copyrighted Yardco Computers 1998-1999. You may not use any images featured on these pages(whether they are original or not) without written permission. This Site designed and maintained by: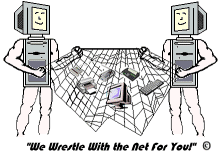 We Wrestle With The Net For You!
yardco@netforyou.net
This page last updated 02/10/99.